Bill Shankly arrived at Anfield in 1959, when Liverpool were in the 2nd Division of English football. Shanks had managerial spells at Carlisle United, Grimsby Town, Workington and Huddersfield Town before taking the helm at Anfield.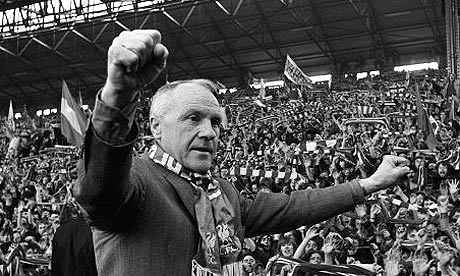 At the time of Shankly's arrival, Liverpool were a team which had only won 5 League titles and were playing in the 2nd Division. The stadium and the training facilities had seen better days, Shankly quick to recognise this, began rebuilding the club and this would eventually see Liverpool touch the unparallel heights of world football.
There is much talk in modern day football of special diets and fitness regimes that the players undergo. But back when Shankly was in charge he introduced the special diets, the enhanced training drills, the five-a-side games and that famous 'wall goal' which encouraged shooting practice.
Shankly's aim was to turn Liverpool into 'a bastion of invincibilty'
The Sixties
Under Bill Shankly, Liverpool achieved promotion back into the top flight of English football in 1962. They were crowned 2nd Division Champions (1961-62). Sir Roger Hunt scored 41 goals and Ian St. John netted 18 goals.
Liverpool Football Club's fortunes were about to turn a corner and put Liverpool Football Club on the world map.
The March of the Redmen 1963-64
In the 1963-64 season, Liverpool were crowned Champions of England. Liverpool torn teams apart during that season; on four separate occasions, the team managed to score 6 goals in a game, beating Arsenal, Ipswich, Wolves and Stoke. Liverpool scored a mammoth 91 goals in clinching their 6th League title ahead of rivals Manchester United. Sir Roger Hunt finished top goal scorer for Liverpool with 31 goals in the league. The march of The Red Men had begun.
1st FA Cup Final – Gerry Byrne's broken collar bone.
Success from the 1963-64 season was to be followed by Liverpool's first FA Cup outing at Wembley. Liverpool were facing a very strong Leeds side in the 1965 FA Cup Final. Leeds boasted the likes of Bremner, Giles, Reaney, Sprakes and Charlton. But, Liverpool brimming with talent offered as good as they got.
Gerry Byrne suffered a break with five minutes of the game gone after a collision with Leeds player Bobby Collins. With no substitutions allowed back then, Gerry had to play on very bravely played for full 90minutes. The game finished 0-0 after 90mins and as would luck have it, Gerry would have to play a further 30 minutes with his injury. Remarkably Byrne was the one who set up Liverpool's first goal in extra time after crossing the ball to Sir Roger Hunt.
The 1965 FA Cup Final would also to be remembered for a fine moment in Ian St.John's career. Ian Callaghan unleashed a fabulous cross, Ian St. John threw himself and connected with a magnificent diving header, resulting in the winning goal. Liverpool had won their first FA Cup.
Inter Milan European Cup Semi –Final 1965
Two days after their historic FA Cup Final win, Liverpool played Inter Milan in the semi-finals of the European Cup. The stage was set, gates were closed at 5.30pm and The Kop was in full voice. Aware that the Italians would be warming up on the Anfield turf before kick off, Bill Shankly sent Gordon Milne and Gerry Byrne to parade the FA Cup trophy to the Anfield faithful.
The stadium came alive and the noise bellowing down from the terraces set the tone for this game. The Inter Milan players saw first hand what a special place Anfield could be on a European night. The atmosphere generated during this game and others, the likes St Ettiene, Olympiakos and Chelsea 2005 semi-final have rarely been seen at any other football ground.
Liverpool went on to win the first leg 3-1 with goals from Sir Roger Hunt, Ian St. John and Ian Callaghan.
The return leg was a controversial affair, namely the decisions of the referee that night came into question. Liverpool lost the second leg but lessons learned from this experience would later see Liverpool elevate to the heights of European Football.
1965-66 Season – Another league title and Runners up European Cup Winners Cup.
Liverpool had another successful season under Bill Shankly winning the league. This was Liverpool's 7th League title and the Reds had reached yet another cup final but unfortunately,  Borrusia Dortmund denied Liverpool a European Cup Winners Cup trophy.
In the 7 years since Bill Shankly had taken over Liverpool, the club had won promotion from the 2nd Division, won the league twice, beat Leeds in the FA Cup and were making noise in Europe. Shanks was not finished, his drive and vision to take this team from the 2nd Division to Europe's elite was beginning to take shape.
First European Trophy Triumph – UEFA CUP 1972-73 Season
Liverpool were crowned Champions of England for the 8th time during the 1972-73 season. Liverpool had reached the UEFA Cup Final and their opponents were Borussia Mönchengladbach. This was a two legged affair and Liverpool won the home tie convincingly 3-0. The return leg was not as comfortable as first, with Liverpool conceding two goals. They managed to hold on and Shanks ensured that Liverpool were now one of Europe's elite and on the world map. Finally Liverpool had tasted some European success under the Scotsman.
The double success of the 1972-73 season was followed with a FA Cup triumph over Newcastle in 1974.
Shankly Retires
Bill Shankly announced his retirement as manager of Liverpool Football Club on 12th July 1974. After devoting nearly 25 years of his life to the club he loved. John Smith, club chairman, made the following announcement:
"It is with great regret that I have to inform you that Mr. Shankly has intimated to me that he wishes to retire from active participation in League football, and that the board has with great reluctance accepted his decision. I would like to place on record the board's great appreciation for Mr Shankly's magnificent achievements over the period of his managership. Meanwhile he has agreed to give every assistance to the club for as long as is necessary."
Bill Shankly had taken a team languishing in the second tier of English football and turned them into; Champions of England, FA Cup winners and UEFA Cup winners. Shankly had  brought much joy during his time at Liverpool and such a sentiment is reflected with the words that are etched on the famous bronze statue of Shankly outside Anfield…
'he made the people happy'
Honours as a manager:
Division 2 Champions: 1961-62
Division 1 Champions: 1963-64
F.A. Cup Winners: 1964-65
Division 1 Champions: 1965-66 European Cup-Winners-Cup finalists
F.A. Cup Finalists: 1970-71
Division 1 Champions: UEFA Cup winners 1972-73
F.A. Cup Winners 1973-74
Bill Shankly Signings:
Gordon Milne
Ron Yeats
Ian St. John
Ray Kennedy
Tommy Smith
Willie Stevenson
Peter Thompson
Geoff Strong
Ray Clemence
Emlyn Hughes
Brian Hall
Alun Evans
Alec Lindsay
Larry Lloyd
Phil Boersma
Steve Heighway
John Toshack
Kevin Keegan
Phil Thompson
Peter Cormack
Jimmy Case
Terry McDermott